We caught up with Kev ahead of the band's first live outing in months (albeit a low key one). Leave your comments below. And if you have a question for Ciaran next time, please email it to feedback@thefeeling.com (we're guessing a few of them will concern facial hair...)
Hello Kev, how are you?
I'm very well, thanks.

We heard you were poorly recently, which is why you weren't at the Island Records party with the others.
Yeah, I had a nasty cold. Nothing life-threatening, but I just didn't really fancy going out anywhere.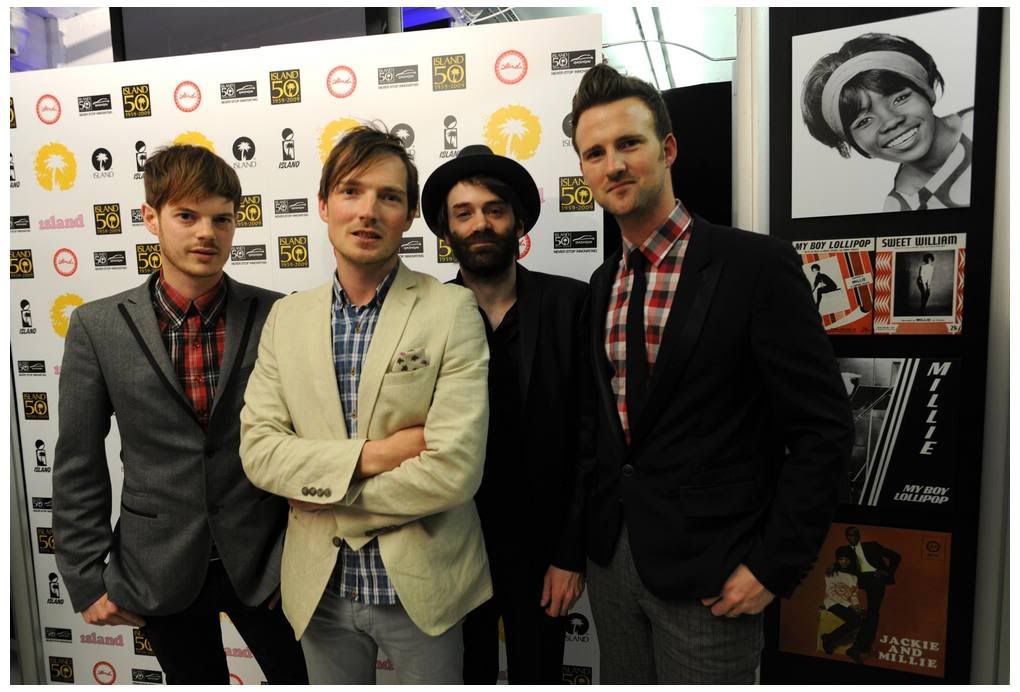 The boys at the Island bash
Ciaran's beard is quite something in that picture.
Well he's always been a hairy chap. He only has to give it a week without taming it and it starts to take on a life of its own. We were criticised for not being hairy enough when we started out, so Ciaran's clearly compensating for that now.

Is the beard still in place?
Yeah, it's still there. He does trim it, but it's even more established now, like a good garden.

Will you be joining him in beardyness?
I do share the family trait for being able to grow a good beard, but unfortunately mine's bright ginger. I look like that scary Scottish scary bloke out of the Simpsons. So, no, I don't think so.

What have the band been up to?
Same as we've been doing for the last six months really, ie making the album.

Have you got a name for the studio yet?
No, not yet.

There have been some good suggestions on the website.
Really? What sort of thing.

The Cockpit seems to be a popular one.
Haha! I quite like that one. What else?

Vindolanda, after the Roman archaeology site full of unearthed treasure.
Oh, that's far too clever for us.

The Balloon. The Starship. Half past eight - so you could say "we recorded the album at half past eight".
Aha! I think we're going to have to all sit down and go through them and pick one.

But for now, the studio has no name.
No. Well, apart from "the studio".

So, how is the album coming along?
Same answer as ever, really. The ones we've got are sounding really good and getting progressively more finished, but we want to have more.

How come you chaps didn't play a show at the Island Records 50th birthday gigs recently?
I believe we were asked, but it's tricky to do one-off things. Aside from the fact that we haven't done a gig in months and we'd probably be crap, all the gear has been pulled apart to go into the studio. It would've been very hard to put together.

But you did do a new song for their birthday compilation.
Yes, the PJ Harvey cover. We did that a while ago now.

Who chose to do that song?
I'm not sure. It may have been Rich?

It shows a bit of a different side to you guys: it's quite raw and rocky.
Yeah, I suppose that's something the records haven't quite captured before. The records have always been predominantly mixed in a way that sounds quite bright and radio-friendly. It's nice to have got that rawer sound on record.

You've not been Twittering much recently.
No. It's just... well... I think it's a load of rubbish!

Haha! How did you come to that conclusion?
I just don't really want to know what everyone's doing from one minute to the next. Obviously lots of people do really enjoy it, but it's just not for me.

Now, you've got a big gig in Hammersmith this weekend?
Have we?

Well, it's the only appearance in your diary. And fans are coming from far and wide.
Really? Oh, well it's certainly not a full-on Feeling gig. It's a charity event which Richard's mother-in-law is organising and we're going along to perform a handful of songs acoustically, in a very disorganised and loose fashion. We should probably rehearse or something. But then it is a comedy event, so we can maybe get away with being rubbish!

Do you have any deadlines looming for the album?
No, it's still a case of trying to record as many as possible and then sitting back and choosing the best ones.

Are you working non-stop on it?
Well, it is fairly relaxed. We generally try to keep the mornings to ourselves so that people can do things like fly helicopters and planes. But, yeah, we do a proper five day week.

Have you been going out much?
Actually, we went out in St Albans for Paul's birthday last weekend. That was fun. Paul probably drank his weight in booze and we were out until the wee small hours.

Can you tell Paul had a few ales on his birthday night out?

Are you planning to go to any festivals as a punter this year?
I'd like to go to Glastonbury now I've seen the line-up. It's like Woodstock or something! It's very old school. I might see if I can pull any strings to get hold of a ticket. I would've loved to have been at all those classic festivals in the 60s and 70s and this is looking like one of them.

Who would you be most excited about seeing?
I don't really know Springsteen or Neil Young terribly well, but I think it would be a good environment to learn about them. And I'd love to see Crosby, Stills and Nash. And the Quo, of course!

Plus, of course, East 17. Presumably that was the main classic act you were referring to.
Well, it was the one that my girlfriend Laura pulled out of the list when I was looking at it! But I don't know how serious she was being.

Right, readers' questions. Ali would like to know which band you would most love to support.
Um... I suppose supporting means you get to play in the venues they play and then maybe they'll let you stand at the side of the stage and watch the gig. We've already done that with Metallica, when we played at a festival they were playing at. That would've probably been my first choice. And we've already done Bon Jovi. I think I'd have to say Queen. That would have been amazing.

Next question is from Emma who wants to know if you're in a Muller Corner advert.
In a what?!

You know, the yoghurts with fruit.
Oh right. Er, no. Not as far as I'm aware.

Emma clearly knows something we don't.
Well, I'm open to offers. We obviously haven't got any gigs this year, so I'll happily eat yoghurt for money.

Finally, Simon would like to know if you like camping.
Yes, I do. Was there a reason for his question? Is it an invitation?

That's unclear.
Well, I should make the distinction between camping at festivals and camping where you hike to the top of a mountain and seek there. I'm not so keen on the former, but I do like the latter.

Where's the most remote place you've camped?
On the top of the Black Mountains in Wales. I'm not sure which one. But that was amazing.